Management of Hypertension: Challenges – 1
---
The free BIHS webinar took place on Wednesday 11th May 2022 at 630pm – 8pm. The topic of this webinar was 'Management of Hypertension: Challenges – 1'.
Resistant Hypertension  – Professor Sandosh Padmanabhan
Improving adherence with hypertension treatments  – Mrs Alison Warren
Orthostatic hypotension and hypertension management  – Dr Gurvinder Rull
Live Q&A with a multidisciplinary panel of speakers, as well as Linda Nazarko and Sam Olden
Speaker and Panellist Profiles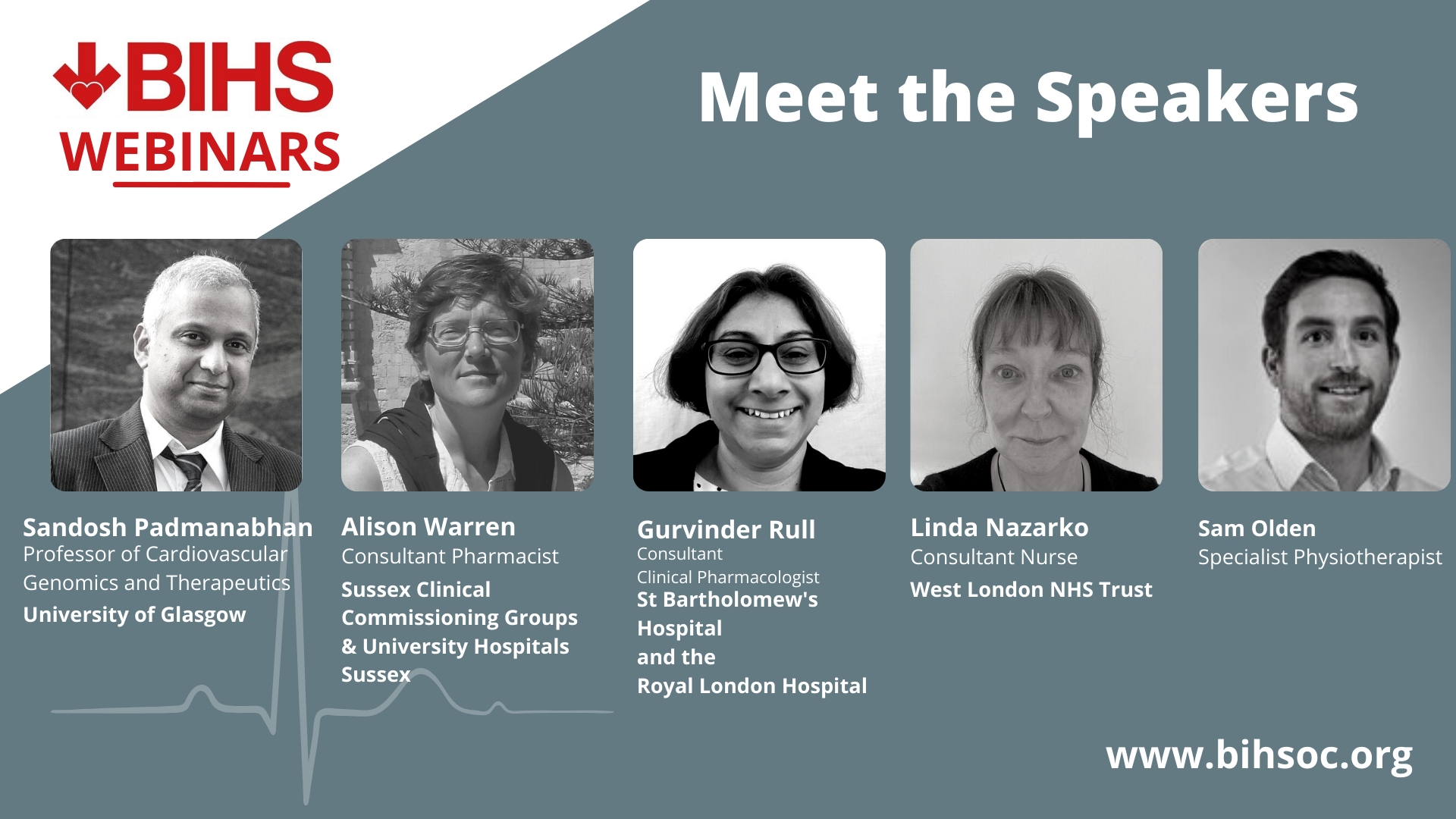 Chair, Mike Okorie (Clinical Pharmacologist) is a Professor of Clinical Pharmacology & Therapeutics at Brighton and Sussex Medical School and Chairs the Educational Programmes Working Party of the BIHS. He runs a regional specialist hypertension clinic at University Hospitals Sussex in Brighton and is also involved hypertension related research. Mike is passionate about the education and training of healthcare professionals in hypertension and related disorders, as this equips and empowers them in the management of CVD risk and prevention in every day clinical practice.
Sandosh Padmanabhan is the Professor of Cardiovascular Genomics and Therapeutics at the University of Glasgow, and Honorary Consultant Physician at the Queen Elizabeth University Hospital, Glasgow. He is a Clinical Pharmacologist with a clinical and research interest in hypertension, pharmacogenomics and precision medicine. H serves as a Commissioner on the Commission on Human Medicines and he is a Fellow of the Royal College of Physicians, the British Pharmacological Society, the British and Irish Hypertension Society and the American Heart Association.
Alison Warren is a Consultant Pharmacist in Cardiology who has worked within cardiology for over 25 years. In her current role she works with both primary and secondary care teams across Sussex to improve patient outcomes by through the implementation of evidence base medicines optimisation for the prevention and treatment of cardiovascular disease, and supporting others to do so.
She was a member of the NICE Hypertension Guideline Group (2019). As well as working with BIHS she is a council member of the Primary Care Cardiovascular Society and a Committee Member with the United Kingdom Clinical Pharmacy Association (Heart Failure group).
Dr Gurvinder Rull graduated from Barts and the London, QMUL – School of Medicine. She achieved a BSc degree in Physiology with honours and a PhD in Cardiovascular disease. She undertook specialist training in Clinical Pharmacology and General Internal Medicine at both St Bartholomew's Hospital and the Royal London Hospital.
Dr Rull is a Consultant in Clinical Pharmacology, Therapeutics and General Internal Medicine at St Bartholomew's Hospital and the Royal London Hospital. She specialises in the management of hypertension and cardiovascular autonomic dysfunction.
Panellist Linda Nazarko is a Consultant Nurse  at West London NHS Trust. She leads a team of nurse practitioners. Her work involves seeing, treating and supporting community and inpatients, staff education, strategic work and policy development. She has just finished a secondment working as clinical lead in a mass vaccination centre.
She was previously consultant nurse at London North West working within inpatients, intermediate care and community. She was also clinical lead for the IV service and for dementia. Linda has set up and managed nurse led services, clinics and inpatient wards.
She has written several books, contributes to nursing journals and lectures nationally and internationally.
Panellist Sam Olden is a Specialist Physiotherapist with a background in exercise rehabilitation and a particular interest in cardiovascular conditions. Sam has led a private rehabilitation clinic for the past 6 years overseeing Cardiac, Oncology and Long COVID programmes.